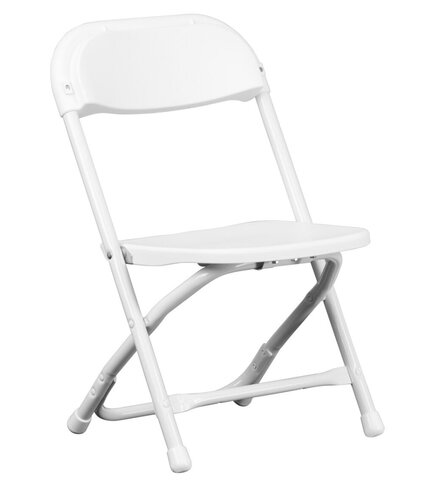 White Folding Kids Chairs 
Make Your Kids' Event Extra Special with White Kids Folding Chair Rentals from Florida Tents and Events!
Planning a fun-filled kids' event in Orlando, Florida, and searching for the perfect seating that's both practical and delightful? Look no further! Our White Kids Folding Chair Rentals are the ideal choice for your next children's gathering, and here's why:
Kid-Friendly Design: Our white kids folding chairs are specially designed with little ones in mind. They feature a safe and comfortable design, ensuring that the kids have a blast while seated.
Versatile and Convenient: The folding design allows for easy setup and takedown, making these chairs a breeze to manage during your event. They are lightweight and portable, perfect for accommodating the energetic nature of kids' activities.
Perfect for All Occasions: Whether it's a birthday party, school event, family gathering, or community festival, our white kids folding chairs fit seamlessly into any children's event, providing a touch of elegance while ensuring the children are at ease.
Picture-Perfect Moments: Capture adorable moments with the kids sitting on these charming chairs. The white color serves as an excellent backdrop for capturing those precious memories that parents and attendees will cherish forever.
Safe and Durable: Safety is our top priority. Our kids' folding chairs are crafted from high-quality materials, ensuring stability and durability throughout the event.
Child-Size Seating: These chairs are perfectly sized for kids, offering them a comfortable and enjoyable seating experience tailored to their needs.
Professional Service: At Florida Tents and Events, we pride ourselves on providing exceptional service. We deliver the chairs directly to your event venue and ensure they are set up with care and attention to detail.
Stress-Free Rentals: Our goal is to make the rental process as smooth as possible for you. You can rely on us to handle all logistics, allowing you to focus on creating an unforgettable kids' event.
Add a Splash of Fun: The white kids folding chairs can be customized with colorful decorations or accessories to match the theme of your event, adding a splash of fun and creativity.
So, why settle for standard seating when you can enhance your kids' event with our White Kids Folding Chair Rentals? Contact Florida Tents and Events today to reserve these delightful chairs for your upcoming children's gathering in Orlando, Florida. Let us help you create a magical and joyous experience for the little ones!