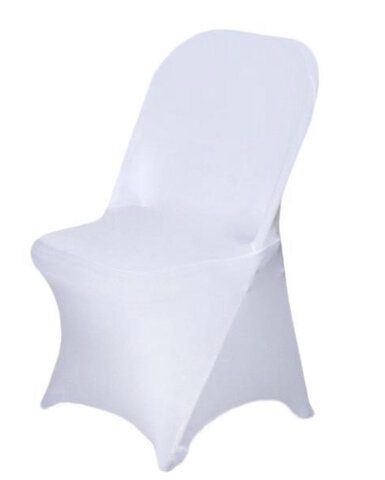 White Spandex Chair Cover
Enhance Your Event with White Spandex Chair Cover Rentals from Florida Tents and Events!
Planning a special occasion in Orlando, Florida, and want to add a touch of elegance and charm to your seating arrangement? Look no further! Our White Spandex Chair Cover Rentals are the perfect choice for your next event, and here's why:
Elegant Transformation: Our white spandex chair covers instantly transform ordinary chairs into a vision of elegance. They create a sleek and sophisticated look that will impress your guests and elevate the overall aesthetics of your event.
Perfect Fit for Any Chair: Our spandex chair covers are designed to fit most chair sizes and styles, ensuring a seamless and polished appearance. Whether you have banquet chairs, folding chairs, or others, our covers will beautifully adapt to them.
Versatile and Timeless: White is a timeless color that pairs well with any theme or color scheme. Our white spandex chair covers act as a versatile canvas, allowing you to customize the look of your event according to your vision.
Conceal Imperfections: If the venue's chairs are not in pristine condition or don't match your event's theme, our chair covers are a perfect solution. They effortlessly conceal any imperfections, making your event look flawless.
Comfortable and Durable: Our spandex chair covers are not only visually appealing but also comfortable for your guests to sit on. Made from high-quality materials, they are durable and will withstand the rigors of your event.
Picture-Perfect Setting: The crisp and clean appearance of the white spandex chair covers sets the stage for stunning photographs. Your guests will look fabulous sitting on these beautifully adorned chairs, creating picture-perfect memories.
Stress-Free Rentals: At Florida Tents and Events, we strive to make the rental process easy and hassle-free. Our team will handle the setup and takedown of the chair covers, ensuring a smooth experience for you.
Affordable Elegance: Renting our white spandex chair covers allows you to achieve an elegant look without breaking the bank. It's a cost-effective way to make a big impact on your event's décor.
Professional Service: With Florida Tents and Events, you can expect top-notch service and attention to detail. We are dedicated to making your event a success and ensuring your satisfaction.
So, why settle for plain chairs when you can enhance your event's beauty with our White Spandex Chair Cover Rentals? Contact Florida Tents and Events today to reserve these chic covers for your upcoming occasion in Orlando, Florida, and let us help you create an event that will leave a lasting impression!