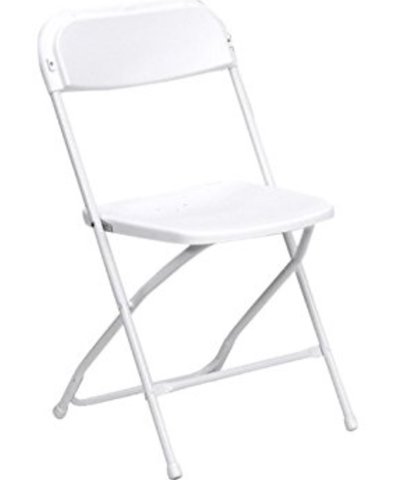 White Folding Chair
Elevate Your Event with White Chair Rentals from Florida Tents and Events!
Are you organizing a special event in Orlando, Florida, and searching for the perfect seating solution that combines style and comfort? Look no further! Our White Chair Rentals are the ideal choice for your next event, and here's why:
Elegant and Versatile: Our white chairs exude timeless elegance and sophistication. Whether you're hosting a wedding, corporate gala, birthday celebration, or any other special occasion, our chairs seamlessly blend into any theme or décor, making them a versatile option for your event.
Comfortable Seating: We understand the importance of comfort for your guests. Our chairs provide ergonomic support, ensuring your attendees can sit back and enjoy the event without any discomfort.
Picture-Perfect Moments: The pristine white chairs serve as a beautiful backdrop for photographs, capturing cherished moments that you and your guests will treasure for a lifetime.
Professional Service: At Florida Tents and Events, we take pride in offering top-notch service. We deliver the chairs directly to your event venue and ensure they are set up with precision and care.
Stress-Free Rentals: Our team handles all the logistics, so you can focus on hosting a successful event without any worries. We make the rental process seamless and convenient for you.
Create a Cohesive Look: Our white chairs complement various table settings and décor styles, allowing you to create a cohesive and elegant look for your event space.
Affordable and High-Quality: Renting our white chairs is a cost-effective solution for achieving a stylish event. Plus, our chairs are of the highest quality, ensuring durability and sturdiness for your guests.
Suitable for Any Occasion: From intimate gatherings to large-scale events, our white chair rentals cater to events of all sizes and types, ensuring that each guest is seated comfortably.
Enhance Guest Experience: Your guests' comfort and enjoyment are essential to us. Our white chairs contribute to a positive event experience, leaving a lasting impression on your attendees.
So, why settle for ordinary seating when you can elevate your event with our White Chair Rentals? Contact Florida Tents and Events today to reserve these stylish chairs for your upcoming occasion in Orlando, Florida. Let us help you create an event that will be remembered for its elegance and charm!