Featured Inflatable Obstacle Course Rental
Corn Maze Obstacle Course Rental
Step into a labyrinth of endless fun with our Inflatable Corn Maze! This isn't just another obstacle course rental; it's a journey through a maze of excitement that will have both kids and adults buzzing with anticipation. Navigate twists and turns and find your way to the finish line. Perfect for fundraisers, carnivals, or any event looking for that "wow" factor, our Inflatable Corn Maze Obstacle Course offers an unparalleled experience that will leave your guests talking long after the party's over. Are you ready to get lost in the fun?
https://www.youtube.com/embed/mJIM_NtrJhg?si=R8xwzRwwxKkID31O
Obstacle Course Rentals in Groveland

Obstacle course rentals are a wonderful addition to any party. When you are planning a large event it is important to keep the lines moving. Obstacle course rentals do just that and can have more than one person running through at a time. This allows more people to have fun and enjoy themselves at one time. If you are looking to have a great time at your next event, you certainly need to be adding some obstacle course rentals to your itinerary. These are very large pieces of equipment, some of our largest, so be sure that you prepare with a large space. Obstacle course rentals along with bounce house rentals and water slide rentals Orlando are a great combination for nothing but good ole fashion fun.

Obstacle Course Rentals for Crowds of All Sizes!

We work with parties of all sizes. Looking to have some fun in the backyard? Or maybe you are a church or school that needs to throw an appreciation day for the kids. We have done all the heavy lifting and work for you, which makes these an amazing addition without a lot of fuss. Obstacle course rentals are simple to do, just pick a date and order them. We will arrive before it is time for the guests. Everything will be clean and set up for you and ready to go when they get there. We have set up very large events in the past several units and concession rentals to simple backyard community events that everyone enjoys.

Obstacle course rentals are a way to get the community involved. They are fun for all ages and a great way to challenge each other. If you are planning a large event, it can and will get overwhelming for some. Not to worry though, we have been doing this for a number of years and are here to help. We work with our clients to help them with traffic flow as well as the best bang for their buck. Whether you are looking to stay within budget or want to get the biggest WOW out of your crowd, we are here to help. We work with clients of all sizes and understand that each situation is a bit different and unique. Not to worry, we have set up a number of inflatable carnivals in the past and are happy to help.
Fall Festival Fun With Our Corn Maze
Obstacle Course Rental
Imagine stepping into a world where every turn is a new challenge, every path a new adventure, and every moment a burst of laughter and excitement. Welcome to our Inflatable Corn Maze, the ultimate obstacle course rental that transforms any event into a thrilling escapade. Guest will line up at the event starting line, the air filled with the buzz of anticipation. The moment they step in, they will embark on a quest filled with endless possibilities.

This adventure isn't just for the kids; it's a family affair! Parents, grandparents, and even the family dog (just kidding, pets should stay safely outside the maze) can join in the fun. It's a playground where age is just a number, and the only requirement is a willingness to embrace the joy of the moment.

And let's talk about the laughter—the kind of genuine, hearty laughter that comes from deep within, the kind that's contagious and fills the air with a sense of happiness and freedom. As you watch your friends and family navigate the maze, their faces lit up with the thrill of the challenge, you'll find that the Inflatable Corn Maze Obstacle Course is more than just an obstacle course; it's a happiness generator.

So, are you ready to elevate your next Fall Festival, school carnival, or church event from ordinary to extraordinary? Our Inflatable Corn Maze is not just an obstacle course rental; it's an experience, a journey, and most importantly, a whole lot of fun. Don't miss out on the adventure of a lifetime!
Book Online Now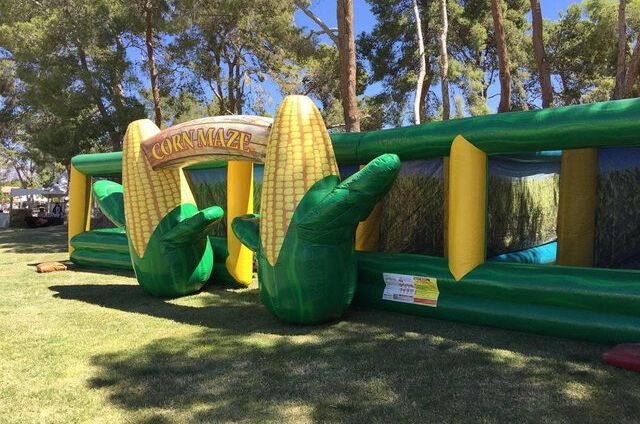 We Help Choose the Perfect Inflatable Rental!
Give us a call and we can help you pick the various options that will work best for your crowd. If you have an idea of age ranges, that helps too! We have something for everyone from toddler bounce houses to inflatable obstacle course rentals that are fun for all ages. We take the time after each rental to inspect, repair, and clean everything in a sanitary fashion. Your safety is number one with us and we also carry business insurance as well as have everything state inspected once a year. We are not just a guy with a couple of bounce houses and a truck, we are the professionals used by schools, corporations, and communities.

Check out these super cool inflatable obstacle courses near you for your next event or party! These obstacle courses are guaranteed fun for anyone that races within them. Race your friends for bragging rights or rent the obstacle course for kids to play all day long while you sit back and take that well-deserved break that's long overdue.
Do You Deliver Obstacle Course Rentals Near Me?
The answer is YES! Florida Tents & Events is the #1 supplier in FL of Inflatable Party Rentals such as, Event Entertainment, Tents, Tables and Chairs, Table Linens & Chair Covers, Dance Floors & Staging, Water Slides, Mechanical Rides, Bounce House, Inflatable Games, Obstacle Courses, and much more! Rent your next inflatable rental with us, Florida Tents & Events Inc.!

Florida Tents & Events is conveniently located in Central Florida but service Clermont FL, Groveland, Monteverde, Mount Dora, Winter Garden FL, Gotha,Minneola, Mascotte FL, Oakland FL, Leesburg FL, Astatula FL and surrounding areas in Central Orlando. We provide the best quality, 1st class party rental equipment that will more than exceed your expectations. We are a family owned and operated company and our number one goal is to offer the superior customer service. We pride ourselves on being on time and professional, full service delivery. Online ordering has never been easier with the "Book NOW" button at the top of every page. CALL US at 407-777-4776 with any questions.

Our customers are consistently providing their comments on the fun they have had with rentals from Florida Tents & Events. Check out our Google and Facebook reviews and see why we continue to be the party rental company of choice for the Orlando area.
Our Service Area
Proud to Serve The Following Areas:


Apopka
Davenport
Minneola
Ocoee
Orlando
Reunion
Winter Haven
Winter Park
All areas in between
If your party or event is beyond that radius, just let us know! We may be able to make special accommodations to suit your event.
NOTE: Fees may vary depending on how far you are outside our service area.
https://www.google.com/maps/d/u/1/embed?mid=1SDNginfV65DFz4yLmzOfiK2ewA4EvOE&ehbc=2E312F
People Who Rented Interactive Game Rentals Also Shopped For:

Carnival Game Rentals
When planning your party or event, it's don't forget about the games! We have a selection of Carnival Game Rentals that are perfect to add to your party or event, including popular games like Ring Toss, Giant Connect 4, Giant Jenga and more!

Bounce House Rentals
Bounce Houses are a great way to give your kids fun, excitement, and a place to hang out with their friends and bounce the day away. Our inventory is certain to have a style that will match your party theme, and some even have a combo slide!

Water Slide Rentals
There's no better way to beat the Florida heat with fun and excitement than by renting one of our fantastic water Slides! Choose from our many vibrant colors and designs and will put smiles on the faces of your guests both young and old.
What Our Customers Say About Florida Tents & Events
Frequently Asked Questions About Inflatable Obstacle Course Rentals
Why choose Florida Tents & Events Inc.?
Florida Tents & Events Inc. is Groveland's premier source for safe, clean and affordable entertainment for all ages. Throughout the years, we have provided fun and games at well over 7,000 parties and events. Our professional drivers and staff are friendly and well-trained. We routinely clean and inspect all of our equipment before allowing its use. We are licensed and insured for your safety.
What type of parties and events do you provide inflatable Rides and Games for?
Whether you're planning a large festival, community, school, religious event; or backyard party, Florida Tents & Events Inc. provides fun rides and equipment for every occasion. Our experienced Event Services Team can assist in planning your event or we can handle everything for you.
How far in advance should I place my reservation?
For your convenience, the fastest way to reserve your party or event equipment is through our website www.operationjump.com. Please make your reservations as soon as possible. All of our Rides and Games are very popular and often booked weeks and even months in advance. The sooner you call, the more likely you are to be able to obtain the item you want.
What form of payment do you accept?
In addition to business checks (with prior approval), we accept Visa, MasterCard, Discover, and American Express. If you are paying with cash, please have the correct amount. For their safety, our drivers do not carry change.
Do you offer multi-unit discounts?
Florida Tents & Events Inc. strives to provide entertainment value without sacrificing quality and safety. In order to assist you in your selection process, our website clearly states pricing and indicates the availability of all of our rides, games, and equipment. Please see the Package Specials portion of our website for additional discounts or simply call for a customized rental quote. For pricing or questions regarding large festivals, carnivals, fundraisers, profit-sharing, pay-per-ride events, staffing, etc., Please call us, We can assist you with event planning or handle the entire event for you.