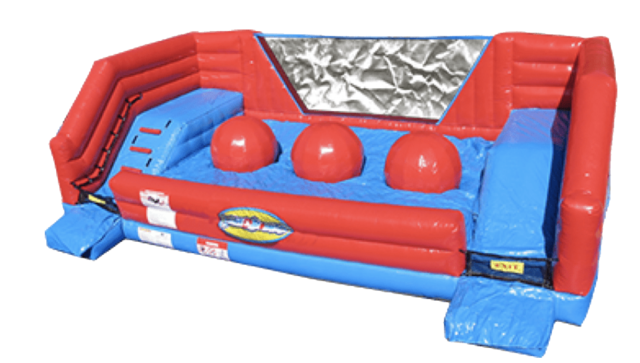 Big Baller Game
Actual Size: 40'x22'x12'
Setup Area: 45'x28'x16'
Outlets: 2
Age Group: All Ages
Attendants: 1




The Big Baller Game inflatable rental is made to challenge its participants in keeping on the balls and not on the floor. It is made of inflatable materials, so it is a bit of a challenge to keep yourself up. Basically, have you ever played, as a kid, the floor is lava? This is an extreme and larger version of that! This an extreme wipeout style game that many kids love and adore. Go ahead and try your luck but hoping, skipping and hopefully landing on the large red balls in the center of the course. As you progress down the course things can get even trickier as the balls tend to bounce and move.
Climb up the ladder that is at each end of the course for easy access. One person should try at a time, to keep it safe. While there can be many on the platform awaiting their turn. This is a wonderfully fun game that many kids flock to, as they challenge each other and themselves. Don't get across the first time? No problem, simply get in line and try it again. This course will have them giggling for hours and is the perfect addition to an inflatable party, community event, backyard event, and more.
We offer a wide selection of party rentals to choose from, which are perfect for small and large events. We work with corporations, schools, churches, and communities as well as individuals. If your child is bored at home, get them an inflatable for the day!
The Big Baller Game truly seems like a fantastic addition to any event or party. Its inflatable nature adds an extra layer of excitement and challenge, turning it into an unforgettable experience for kids and even adults. The concept of navigating through a course while trying to stay on giant inflatable balls is not only entertaining but also provides a healthy dose of physical activity.
The element of climbing up ladders at each end of the course adds an adventurous aspect, creating a complete obstacle course experience. It's a game that not only tests one's balance and coordination but also encourages a sense of resilience. The bouncing and moving of the balls as you progress down the course add an unpredictable twist, keeping participants on their toes, quite literally. The one-person-at-a-time rule is a smart safety measure, ensuring that everyone gets a fair chance without the risk of collisions. The anticipation builds as participants wait their turn on the platform, creating a social atmosphere where they can cheer each other on or share a laugh at the playful challenges the game presents. It's not just about conquering the course; it's about the shared joy and camaraderie that comes with attempting and mastering the Big Baller Game.
This inflatable wonder seems like an ideal entertainment option for various occasions, from lively backyard gatherings to community events and larger parties. The versatility in catering to both small and large events makes it a valuable choice for event planners working with corporations, schools, churches, and communities. The inclusivity of this game allows people of all ages to join in the fun, making it a perfect family-friendly activity. Imagine the joy and excitement it could bring to a birthday party or a community fair.
The laughter of children and the friendly competition among friends would create memories that last a lifetime. And for those who might not succeed on their first attempt, the opportunity to hop back in line and give it another go adds an element of perseverance and determination, teaching valuable life lessons in a lighthearted setting. In conclusion, the Big Baller Game inflatable rental sounds like an absolute winner, promising hours of entertainment, laughter, and physical activity for everyone involved. It's not just a game; it's an experience that transforms any gathering into a memorable celebration. So, who's ready to take on the challenge and become the ultimate Big Baller champion?