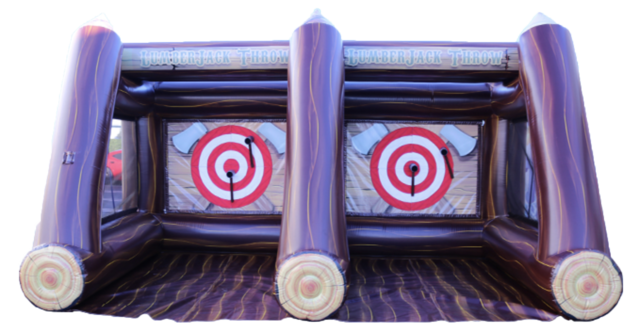 Dual Axe Throwing Game
Actual Size: 22'×13'×11'
Setup Area: 24'x15'x13'
Outlets: 1
Age Group: All Ages
Attendants: 1




Inflatable Ax throwing game is a wonderful addition to any carnival or backyard event. If you are looking to have a great time and not sure what to add to your carnival. Be sure to check out some of the inflatable game rentals that w offer. Our inflatable ax-throwing game is one of the favorites. If you have ever wanted to try throwing an ax but that sounded a bit too dangerous then this is for you. The targets are velcro and the axes will stick to them or bounce off. You can set up various ways to play the game and even ax throwing tournaments if you'd like. These are wonderful for both kids and adults.
Get some fun interactive games that will get people warmed up and having a great time. These are perfect for fundraisers, home parties, corporate events, and more. We do all the heavy lifting for you and deliver everything as well as set it all up. All you have to do is pick the time and advertise if this is a fundraiser or let your guests know when to arrive. Once you are complete, we will be back by to pick it all up, it is that simple.
This game works with up to two people at a time. However, it is recommended that the players pay attention and don't go walking toward the target until everyone is done throwing. They may not be real axes but they are weighted and could hurt a bit if hit with one. Each game comes with two targets and 6 axes for an amazing time. We suggest Hippo Chow down as a add on!!
The inflatable ax-throwing game is not just an entertaining activity but also a great way to build camaraderie and foster team spirit. For corporate events, it can be a fantastic team-building exercise. Participants can compete against their colleagues, and this friendly competition can help break down barriers and encourage better teamwork. Moreover, it provides a unique and memorable experience that employees are likely to remember and talk about long after the event has ended, which can have a positive impact on company culture. For fundraisers, the ax-throwing game offers a fantastic opportunity to attract participants and donors. The element of fun and excitement can draw people to the event, and you can charge an entry fee or sell tickets for participants. The funds raised can then be directed towards your cause.
This type of interactive game is not only a great way to engage the community but also a powerful tool for raising money and awareness. Home parties and backyard events can benefit from this inflatable game by providing a unique and memorable experience for your guests. It's a great conversation starter and can be a highlight of your gathering. Whether you're celebrating a birthday, a special occasion, or just having a fun get-together, the ax-throwing game adds an exciting and social element to your event. The inflatable ax-throwing game can also be used to encourage friendly competition. Consider organizing ax-throwing tournaments at your event, where participants compete against each other to see who can score the most points or hit the bullseye. You can offer prizes for the winners to add an extra layer of excitement and motivation. In addition to Hippo Chow Down, as you mentioned, you might explore other game rentals to create a diversified entertainment experience for your guests.
By offering a range of activities, you cater to different preferences and ensure that there's something for everyone to enjoy. This can make your event even more memorable and engaging.